Dolphin Swim Adventure
Swim with Dolphins at Grand Cayman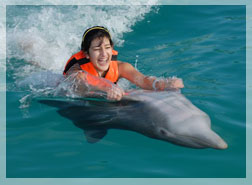 If you are into safe, adventurous and fun activities, this program will help you establish a bond of trust with the dolphin and will give you a friend for a lifetime. The dolphin greets you with a handshake, a kiss on the cheek, and lets you kiss it as well. You will get close and personal with your new friend while it takes you on a belly-ride. You will be able to enjoy moments of great spontaneity during your free time together. An unforgettable experience!
Put on some goggles and get an incredible view of the dolphins as they speed and spiral swim through the water and demonstrate their amazing agility. Moreover, dolphins will frequently swim in and out of the water, allowing you to caress and observe them from a short distance. The program duration is 45 minutes (including brief orientation).
Group sizes are limited to 10 people each, to ensure you have a very personal experience
Dolphin Program Behaviors
Terms and Recomendations
Minimum age: 8 years
Children 8 to 12 years old must come with a paying adult (per child) as a companion.
We do not allow pregnant women in this program.
The price does not include the $3.00 USD dock fee per person that must be paid at the time of registration.
Photos and videos are taken during our programs and are available for purchase only on the day of the program.