Share this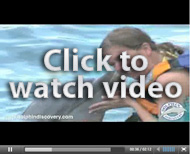 Schedules:
Daily


Times:
09:30 AM, 11:30 AM, 01:30 PM, 03:30 PM


Program Rates: *
Adults: $ 199

Children (8-12 y.o.): $ 159


* Rates & schedules may vary depending on date.

Dolphin Royal Swim
Swim with Dolphins at Grand Cayman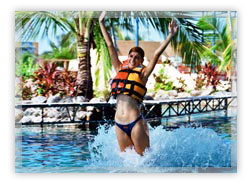 This is the most complete program of all, as it involves dynamism and action. This time you will be able to enjoy it in the most famous of the Cayman Islands surrounded by the heavenly Caribbean. Two dolphins welcome you with a handshake, a kiss on the cheek, and let you give them one as well. Then, they take you for a speedy ride while you hold on to their fins. The most thrilling moment is the foot-push, when you feel the strength of your new friends while they push you across the water from the bottom of your feet. It is truly "the experience of a lifetime!"
Group size is limited to ten people to ensure that you have a very personal experience. In order to participate on the Dolphin Royal Swim ® or Dolphin Swim Adventure ® program, children must be 8 years or older and be 4 ft tall, still a responsible and paying adult must swim with them.
Dolphin Program Behaviors
Terms and Recomendations
Minimum age: 8 years
Children 8 to 12 years old must come with a paying adult (per child) as a companion.
We do not allow pregnant women to participate in this program.
The price does not include the $3.00 USD dock fee per person that must be paid at the time of registration.
Photos and videos are taken during our programs and are available for purchase only on the day of the program.

Photo Gallery

Comparative Table